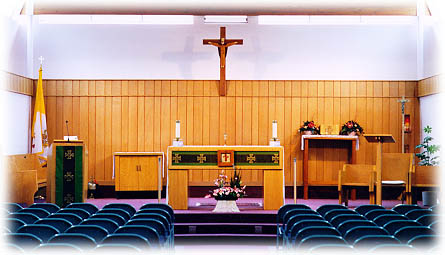 Altar area in the original building
Parish History
In 1990s, the population in Richmond increased dramatically and so did the number of Catholics. The three parishes in the city were not big enough to meet this growth. So in 1995, the Most Reverend Adam Exner OMI, Archbishop of Vancouver, bought the land in northern Richmond located in Granville Avenue and No. 2 Road which was previously the site of an old Baptist Church, and converted it to a new Catholic Church.
The new Parish was named "Canadian Martyrs Catholic Church" in order to commemorate the eight Jesuit martyrs from France in the 17th century. They were Father Jean De Brebeuf, Isaac Jogues, Antoine Daniel, Gabriel Lalemant, Charles Garnier and Noel Chabanel and two lay companions. In Canada, their feast day is celebrated on September 26.
The parish property is about 2.2 acres. The original facility was built in 1967. After interior and exterior renovations, adding more equipment and religious articles, there were 355 seats which was enough for 400 parishioners. In addition, there was the parish office, a conference room, kitchen, community room and some classrooms. It became a well equipped church that served the community well.
Current Parish Priest: Fr. Richard Au
Sisters serving in the Parish : Canossian Sister
Former Parish Priest : Fr. Robert Wong, S.J. & Fr. Paul Chu
The parish population expanded rapidly and soon outgrew the original building. Plans were developed and funds were raised to build a larger church facility. On May 5, 2001 the last mass was celebrated in the old building. After that, everything had to be moved out and put into storage. The parish community spent the next 22 months worshipping at the nearby parishes of St. Joseph the Worker and St. Paul's.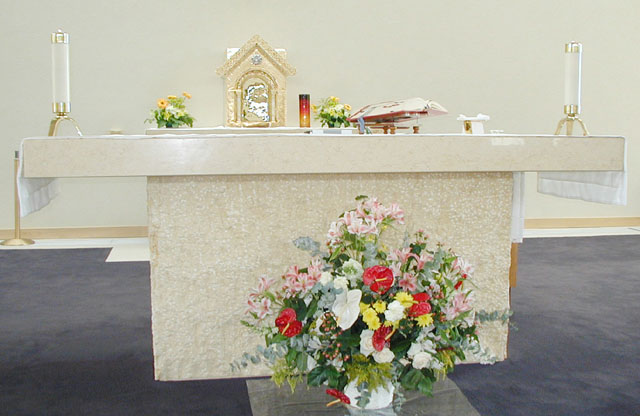 Altar in the new building
The new 600 seat Church and adjacent Parish Centre were officially opened on March 2, 2003. Click here to read more about the blessing of the new Church. Click here to take a virtual tour of our facility. For a pictorial chronicle of the building project, click here.
Canadian Martyrs Parish is located in the centre of the city (Map). It is the only Catholic Church in Richmond where masses are offered in Mandarin, Cantonese and English. There are about 1200 registered families and the number is increasing.